One of the reasons we love New York City is its abundance of street food.
It seems that eating out in New York for lunch can be as simple as going out of your office to the nearest sidewalk. Which is a far cry from what Jack and I had to do in our previous working lives – get in a car and drive during our lunchbreak.
Food trucks can found lining the streets around office buildings, parks, and busy intersections selling everything from meat-on-a-stick to Mongolian BBQ to Belgian waffles. Things that you don't normally considered as 'street food'.
This cupcake and milkshake food cart can be found outside of New York's Metropolitan Museum of Art. Even though the cupcakes are a little too rich (apparently there is such a thing), the milkshakes are to die for.
Cupcake and Milkshake food cart in New York City
Dumplings make for a perfect snack, don't you agree? They're bite-sized, easily held in hands, and delicious too. Try the shrimp dumpling or the edamame ones. They're good, but for $1 a dumpling, you expect them to be good.
Food truck selling dumplings outside of an Apple Store in Chelsea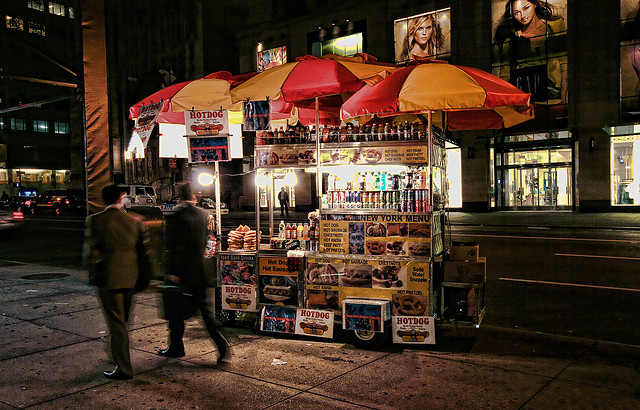 A typical New York Street vendor – A Strakey
I think New York is probably one of the few cities in the world where a Belgian Waffle sold from a food truck sets you back $5. Rumor has it it's delicious, and based on the long line of people we saw waiting for their waffles, it must be. We didn't try.
The options are unlimited. Each time we venture out we'd come across yet another food truck selling something we'd never seen before. There's even a tour that takes you to all the wonderful and edible stuff available on the streets New York City (unfortunately, we didn't know about this before).
And if you want to do it yourself, here's a list that can help you find these trucks yourself. Or, even better – just walk around the city. You're bound to come across one. Or 10.
Being New York City, these food might be served on the street but they're not cheap and they pale in comparison with the variety and freshness of sidewalk food in South East Asian countries. Regardless, there's something to be said about rubbing elbows with business men in suits over a $5 falafel over rice plate, eating them standing by a trashcan on the sidewalk, and watching the rest of the world go by in an excited rush.